Ben Schröder (1955, Nieuwer Amstel) starts picking up the drums at the age of 13, he is entirely self taught. From the end of the seventies he joins the "
Trio Jos van Beest
".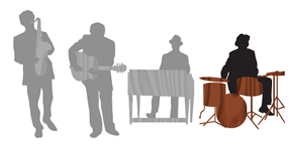 Around the same time he is part of the first house band at the famous Amsterdam jazz stage, "
Café Alto
", and can regularly be heard playing with alto saxophonist and flute player,
Peter Guidi
. Many well known names from the Dutch jazzscene are to follow, such as:
Harry Verbeke
,
Ruud Brink
,
Hein van der Gaag
and
Ferdinand Povel
.